Welcome...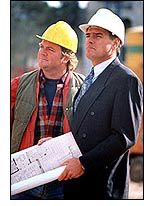 Deremer Insurance Services is a full-service independent broker offering commercial insurance throughout New England. Committed to reducing our clients insurance costs, we specialize in workers compensation and property and casualty insurance for small to medium sized businesses. As independent brokers, our responsibility is to you, the client. Deremer Insurance Services is not like your typical insurance agent who represents a limited number of companies and must satisfy the production quotas of these companies. The amount of companies we can access for our clients is virtually unlimited. We work for you. We are your insurance buyers.
Due to our unique brokerage operation, we have access to the products and services of many leading companies and select those best suited to cover your individual needs. This allows us to offer our clients the most competitive and comprehensive products available in the marketplace.
Over the years, the placement of workers compensation insurance has become one of our main areas of specialty and strength. We have built a team of risk control and claims management professionals to help us better serve our clients. We have many workers compensation programs for you to choose from, including one that combines workers compensation with a payroll system that eliminates costly down payments and premium audits. This a great pay as you go weekly pay system. You'll never underpay or overpay your premiums again!
Some people think it doesn't matter where they buy their insurance. There is a difference where you buy your protection, and an independent broker who has access to multiple companies will offer you the best combination of price, coverage and service.
For a workers compensation program or other insurance plan to meet your individual needs, improve your cash flow and save you money, look to us with over 25 years of specialized insurance service.
Above all else, please call us at once if you are presently:
insured through an employee leasing program

insured through any assigned risk plan or residual (the "pool") market plan.

19 Nutfield Drive
Londonderry, NH  03053
       
Phone: 
Fax:
(603)432-0300
(603)537-0717
Email:
BillD@cutinsurancecost.com
Important Note: This website provides only a simplified description of coverages and is not a statement of contract. Coverage may not apply in all states. For complete details of coverages, conditions, limits and losses not covered, be sure to read the policy, including all endorsements.